Living a vibrant life requires the basics – clean whole foods, clean water and air, a toxic-free home and work environment, beneficial relationships and ongoing self-care. Our bodies, minds and spirits, in addition to our families and pets, are enriched when making these basic needs a priority.
We are continually being bombarded with external and internal factors that can stress, even endanger our physical, mental, and emotional selves, wearing out and taxing our body systems on multiple levels. Compromised health symptoms can show up in a variety of ways.
Do you feel like you have brain fog or lack focus?
Could your digestive, respiratory, or immune systems use some support?
Do you need to turn to caffeine or other stimulants because you're just so tired all the time?
Vibrant health is a lifestyle choice. Staying active, focusing on toxic-free living, getting adequate sleep, and understanding 80% of your health is attributed to your diet is key. Healthy food choices and superfoods help with strength, endurance, alertness, and even give a competitive edge to an athlete or other peak performer. When mental, emotional, and physical strength are priorities, then natural health solutions and eating to get the right nutrients become a way of life. Deciding to stay on the path of a wellness journey is one of the most important choices you can make.
I'm Brenda Brookman, owner of Walkways to Health, and a self-educated health advocate. Learning from both my personal and my family's health challenges, I teach that health is not an option. It's everything. There are no "quick fixes", yet the basic principles for living a healthy lifestyle are quite simple.
As an educator and researcher with over 30 years of experience in holistic health, I've guided countless people with trusted resources and superior products to support their health issues and wellness goals. I especially, although not exclusively, love working with children and adults diagnosed with attention or focus issues.
My background
explains how I've come to be a health educator and advisor with clean, non-toxic, healthy living products. I welcome and encourage you to check out the product pages on this site to learn about toxic-free solutions to support you and your family. You can easily have the products (or in some cases, samples) shipped directly to you to experience at a reduced cost.
If you don't know where to start on your walkway to health, I'm here to be your guide. Let's connect to determine how I can support your optimal wellness.
The most important thing is to start somewhere. I'm recommending and highlighting several products as a guide, leaving it up to you to determine your starting point for your journey to living a healthier, more vibrant life. Only you can take charge of your most precious possession – your wellness.
3 Easy Steps to Living a Healthier Lifestyle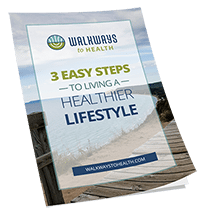 Sign up to get your copy!